Vizsla Club of the Carolinas

Serving North and South Carolina US and surrounding areas

This page was last updated: November 8, 2017
National Events Futurity and Maturity

The 2017 VCA National Specialty held in May will host the 6th Annual Futurity Maturity Specialty Show.  Breeders from around the country are encouraged to nominate their litters and participate in this program that is designed to highlight and showcase many different breeding programs of well-established and respected breeders of this wonderful breed.

The purpose of the program is two-fold:

1. To highlight and reward the breeders, the backbone of our breed, as well as the stud dog owners and puppy owners. This will be accomplished through the awarding of cash prizes derived from both nominating fees and entry fees.

2. To provide a fund-raising opportunity for the Vizsla Club of America,The VCA will receive 15% of all nominating fees.

Administration of the program is accomplished through the efforts of a committee comprised of Ed Foster, Michelle Rochester and Joyce Tischler. While the program has been approved for inclusion in the VCA National Events, by the VCA Board, this committee operates independently from the VCA Board.

For more detailed information, as well as many FAQ & entry forms:

VCC Fun Day & Meeting! - Saturday November 18, 2017

Jane & Steve Robbins - Yadkinville NC

We are planning a field practice/training day for VCC members and non-members on November 18th! The club will have a meeting during the lunch break. We will have Brett Martin there to assist you with training or you can work your dog/dogs independently. Senior and Master level dogs will be  worked earlier to allow for live ammo with no other younger dogs in the vicinity.  We will also try and work club members dogs early and late to leave the middle of the day free for the meeting. This should be a fairly short meeting. If you plan to attend and have anything you want to discuss please send the info to be added to the agenda.

You will need to sign up ahead of time and request your birds. If you request time with Brett we need to know for how many dogs as well. We also need to know how many for lunch.

A semi flexible schedule will be made to try and be sure everyone gets time to work their dogs so if you have any special requests for times let us know. Since daylight is limited when we reach what we feel is a "full day" we will close the sign up for time with Brett.

All pointing breeds are welcome.

Date: November 18, 2017

Place: Jane & Steve Robbins in Yadkinville NC

Time: 8 am until

Birds: $3.50 each

Lunch: $5 per person

Brett: $10 per dog

Lunch will be BBQ, baked bean, coleslaw, dessert, drink.

What to reply:

Name

Number of lunches

Number of dogs to work and level

Number of birds

With or without Brett's help

RSVP no later than 11/11/17 please to Jane at reddogsrule8@gmail.com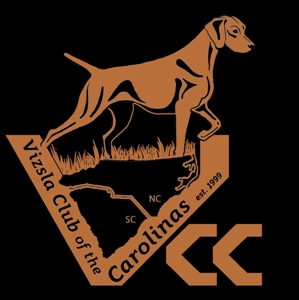 VCC Hunt Tests! - Saturday & Sunday, February 10 & 11, 2018

Armenia Winds - 2917 Armenia Rd, Chester SC 29706

Judges - TBA

Volunteers Needed!! We have a variety of jobs that we will need help with in order to make these events a success! Please contact Beth Kirven if you can be of any help! 
bdake@sc.rr.com
Stay tuned for more details!